Hi @jeff.dietiker @onlyjus @cgw ,
I have used 21.1.4 version of the code to model FBs using TFM method. It happened to me that the time-averaged fields do not show symmetrical behavior on the walls. However, as the BCs and geometry is symmetrical, we expect symmetrical behavior of the averaged properties. The FB that I modelled is a psudo-2d Bed studied experimentally by Laverman et al. [2008].
So, I switched to 2013-1 version of the code used by a former member of our group. He has implemented some changes in that version and got really good results. I have attached the results of the time-averaged particle velocity field in a horizontal section of the bed. I wonder if anyone has the same problem implementing JJ BC on the walls? I can provide the modification to the old version in case it is needed. please see the attached results obtained by the 2013-1 and 21.1.4 versions implementing exactly the same settings. As you can see the 21.1.4 version get extra vertical structures in the top portion of the bed also.
I belive something is wrong with the new versions. I apologize in advance for sharing the images like this.
Thanks,
Mohsen
2013 version lateral time-avearged particle velocity profile vs experimental data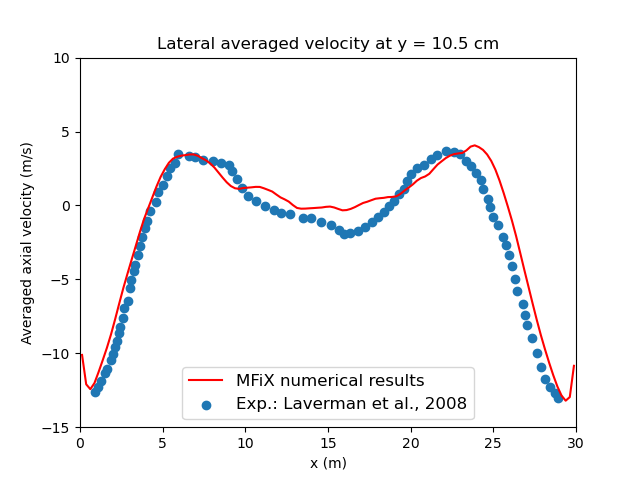 2013 version lateral time-avearged particle velocity profile vs experimental data

Laverman data:

2013 version results:

2021 version results: