Hello, researcher.
I am very sorry for the many problems caused by my poor learning ability and ability to master new software.
I am curious why this error occurred. According to the Biomass example, I made modifications to the chemical reaction rate (usr_rates), but always reported an error. Why is this?

2dd_2023-09-15T221510.799263.zip
(94.7 MB)
Additionally, in Silane_ Pyrolysis_ Pic_ There are some doubts in the code for the chemical reaction rate in the 3D example (usr_rates_des), such as: the form of the chemical reaction formula is basically similar, but why is the process of solving the chemical reaction rate different?

Secondly, why is there a pressure of hydrogen gas here? Moreover, there is Si present in the reaction product; why is there no information about Si in this formula? Also, what does this ONE mean?

Next, on line 95, why is the partial pressure of Si2H6 not listed? Why are only the diffusion coefficients and gas constants of SiH2 listed on lines 99 and 101? Why are other compounds, such as Si2H6, SiH4, etc., not listed?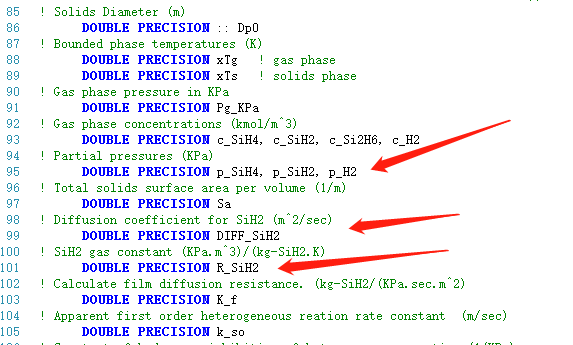 I really don't understand this operation, and no one around me can operate this process. I really don't have a solution now. If this problem can be solved, I would greatly appreciate it.
Best wishes!